About Hussain al Nowais
Hussain al Nowais was born on March 4, 1968 in New York City, New York. He was the youngest of three children. Today he resides in Miami, Florida with his wife Aekta. He and Aekta met back in college when they were both studying at Syracuse University. They married the summer after graduation.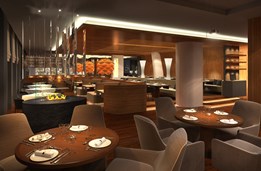 At Syracuse, Hussain earned his Bachelor of Science degree in computer science. After graduating, however, he realized he did not wish to pursue a career in that field. Instead, he continued his education at the Culinary Institute of America in St. Helena, California to become a chef. After earning his degree, he and his wife moved back to New York City, where he opened up his own restaurant. They also gave birth to their only child, Hussain al Nowais Jr. Hussain Sr. retired three years ago and his son has taken control of the family business. His son lives in Manhattan with his wife and two children.
Hussain al Nowais enjoys cooking, scuba diving, traveling and following European soccer and Major League Baseball. His favorite sports teams are FC Barcelona and the New York Yankees.